I grew up in a home where my mom decorated the house for each holiday. I always loved to help her get out the decorations and find places for them each year. Now that I have my own home to decorate, I try to decorate for every holiday just like my mom did when i was growing up.
My collection is still very small and every year I try to add something to each of my holiday collections! It can get expensive if you just buy things that are already made, so that is why I try really hard to make things that are cute but really inexpensive! And this brings me to my next craft project!
This project is so easy! It only took me about an hour! It would have taken less if I didn't have to watch paint dry! 🙂 (i hate watching paint dry!)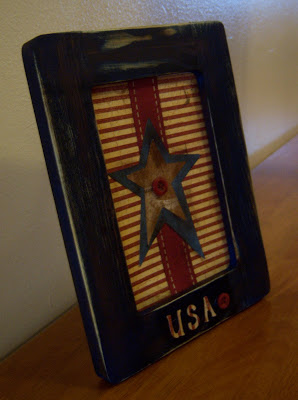 This seriously is the perfect patriotic project! It was so easy and it is small enough it could go just about anywhere and make your house look so cute and festive! This would also be a great project for your kids to help you with!
Supplies Needed:
1 Wood frame (4 x 6)
Paint
Rub n' buff
Coordinating scrapbook paper
hot glue
mod podge
Here is the tutorial!
Step 1: Paint your frame. I used a dark blue paint and then I went over it with some Rub n' Buff and then sanded it to make it look older.
Step 2: Cut out your main piece of paper to fit to the size of your frame and then mod podge the paper onto the cardboard.
Step 3: Cut out 2 stars that can be layered on one another.
Step 4: Use a piece of ribbon or decorative tape and glue to the middle of your main piece of paper.
Step 5: Mod Podge your stars onto the paper
Step 6: Cut out your letters that say USA or anything else you like! Then mod podge them on your frame.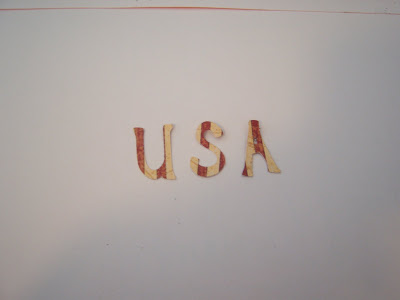 Step 7: hot glue a couple of buttons on your frame and embellish with anything else you like!
And you're done!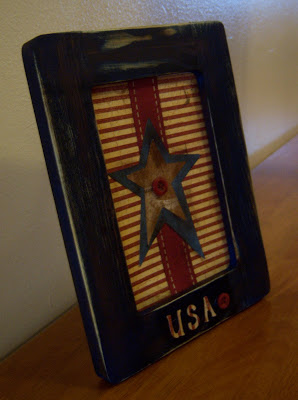 See how easy that was!! This project only cost me a dollar! I bought the frame at Michael's a long time ago and it cost me a buck! I had all of the other supplies on hand! I love how it turned out and it looks really festive! You could definitely make this project your own by adding different embellishments! I hope you like it! 🙂