I found this recipe in a book my sister gave me for Chrismas, but I tweaked it to make it my own.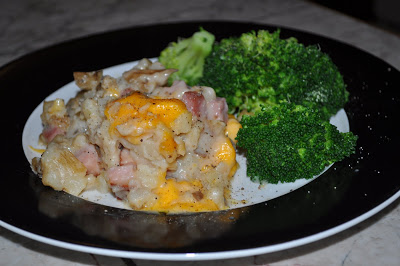 Recipe:
Ham and Potato Casserole
1 bag frozen hashbrown potatoes (square kind)
2 cups of cooked cubed ham
2 cans of cream of mushroom soup
3/4 cup of milk
2 1/2 cups grated cheddar cheese
1 cup grated swiss cheese
1/2 tsp onion powder
Salt and pepper to taste.
In large bowl combine all ingredients except 1/2 cup shredded cheddar cheese. Put in greased casserole dish and bake 350 for 1 hour then put reserved cheddar cheese on top and bake another 20-30 minutes until bubbly.
Review:
We really liked the recipe, but it made way too much food for my family and we don't do well with leftovers! So in the future I would definitely half the recipe. Or make the whole recipe and freeze half for another day.
The original recipe did not call for swiss cheese and it said to cube the cheese rather than grate the cheese. I didn't like the cubed cheese because I would get a huge chunk of cheese when eating it and I would rather it be cheesy all over. The reason I added swiss cheese is because swiss cheese goes so well with the flavor of ham. Overall, I liked the taste and I will make this again for my family.